"Margot clarified my writing without stealing my voice."
--Dr. Claudia Welch, Balance Your Hormones, Balance Your Life
Since the early 1990s, I have been working very successfully as a freelance book editor and writing coach for people who have wonderful things to tell the world but are not professional writers. (Note: I do developmental editing and line editing, not copy editing or proofreading.)
I help new writers through the process, rewrite when needed and edit non-fiction manuscripts and book proposals. I also work with established literary agents to polish manuscripts for submission. I have worked on more than 25 manuscripts in the areas of psychology, personal growth, spirituality, memoir, consumer health, diversity and inclusion, and business. Over 95% of my clients have been able to find an agent, if they so desired, and nearly all have had their work published.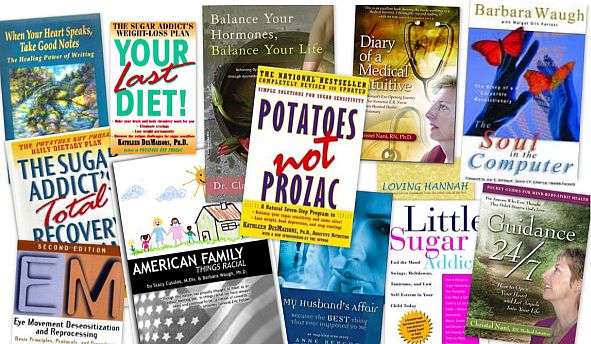 "If you ascribe to be a great writer, partner with Margot. Not only is she an expert editor, she is a skilled and caring coach. She will make sure that your writing shows your voice flawlessly. I worked with Margot on my first book and got a lucrative contract with a major NY publisher on the first try out the gate. Every penny I invested in her help was multiplied beyond my wildest imaginable. I don't think there is better person out there."
--Dr. Kathleen DesMaisions, author of Potatoes Not Prozac, The Sugar Addict's Total Recovery Program,
Your Last Diet! and Little Sugar Addicts

---
"When I started working with Margot, she promised that, at the end, I would have an excellent book. It was in the contract. I was both surprised and impressed that someone would have the chutzpah to make such a promise. She delivered, and then some.

"She provided direction when I lost it, clarified my writing without stealing my voice, stayed on task, on deadline, and was available--heart and hands-- to the end. Working with Margot is one of the most fun and rewarding collaborations of which I have ever had the joy of being part."
--Dr. Claudia Welch, author of
Balance Your Hormones, Balance Your Life
---
"Margot Silk Forrest is a gifted editor, teacher and coach. When she is done with your manuscript, you sound just like yourself -- only better. She gently but firmly guides you through the labor of delivering your book. Margot does very careful editing, but somehow manages to teach you to be a better writer at the same time."
--Susan Borkin, M.A. author of
When Your Heart Speaks, Take Good Notes
---
"Thanks to my brilliant editor, Margot Silk Forrest. She is truly a pleasure to work with."
--Dr. Margaret Paul, author of
Do I Have to Give Up Me to Be Loved by God?
---
When I work with writers, I coach them on:
--The four questions every author needs to answer before starting to write his or her book
(email me and I'll send them to you)

--How to organize a non-fiction book for clarity and ease of use
--Why to write the first chapter of your book last
--How to create a saleable book proposal
--How to polish a final manuscript for submission
---
If you want to talk about your book or other writing project,
give me a call at (805) 771-9522 or
email me
.
---
I am also the author of
A Short Course in Kindness
and co-author of
EMDR: The Breakthrough Therapy
,
The Soul in the Computer: Story of a Corporate Revolutionary
and co-author of the craft book
Sassy Feet: Paint, Embellish and LOVE Your Shoes (and Bags)!